Best of Ephesus: 1-Day Private Guided Tour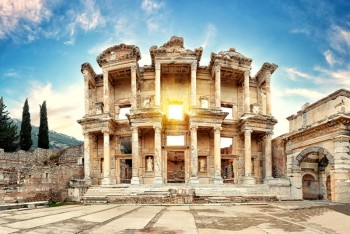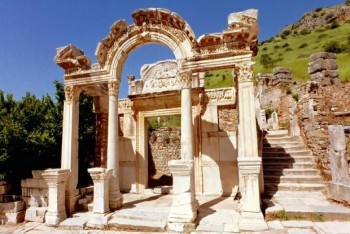 For last-minute inquiries about Istanbul tours, please contact or text us at
+90 53 67 46 95 79
Duration: 6 hours
Tour starts: Hotel
Tour ends: Hotel

Includes:
Private Tour
Professional Tour Guide
Transportation

Excludes:
Museum/Attraction Tickets
Lunch, Drinks
Sights to see:
Day 1
Ephesus Ancient City

House of Mary

Temple of Artemis

Saint John Basilica

Itinerary
Your tour guide will meet you at your hotel lobby or cruise port and start your tour to take you to the best sights of the city.

You will experience the best of the city on this private tour which includes all the major sights. You will wander through the legendary streets and magnificent structures and be amazed with the rich culture of Turkey.

At the end of the tour, your tour guide will accompany you to your hotel or port.
Day 1

Ephesus Ancient City; Ephesus is the largest open-air museum in Turkey and is made up of more than 30 buildings and constructions that are connected by streets that still have chariot wheel tread impressions. Your tour guide will take you to the majestic Great Theater, where St. Paul once preached against the pagans and gladiators fought. The renovated façade of the Library of Celsus will astound you as you stroll along Marble Street. Visit the Hadrian's Temple, the Roman baths, and other fascinating antiquities.

House of Mary; One of the Christian pilgrimage sites is the House of Virgin Mary, where Virgin Mary spent her final days. Virgin Mary's Church The Apostle John is credited with bringing Mary to Ephesus following Christ's Resurrection. Popes Paul VI and John Paul II attested to the church's construction on the home's foundation, where she spent her last days. From 1967 to 2006, Pope Paul VI, Pope John Paul II and Pope Benedict XVI paid visits to the shrine and "informally" endorsed its veracity. They left some presents which can still be seen today.

Temple of Artemis; One of the Seven Wonders of the Ancient World is the Temple of Artemis. The area where the Temple is located is referred to as Ephesians' initial settlement. Even though the magnificent Hellenistic building was once more magnificent than the Parthenon, it is now simply a collection of columns and scattered remains.
Saint John Basilica; Basilica of St.John. Evangelist St. John resided in Ephesus in the early years of the first century A.D. in order to spread Christianity and gather more followers of Jesus. And following his return from captivity in Patmos, various sources claim that he passed away in the area of Ephesus. Additionally, his disciples had him interred on Ayosolug Hill's southern slope. In the fourth century A.D., Roman Emperor Justinian built one of the largest Christian basilicas over the grave of St. Jean the Evangelist.
Additional information
Children aged 7 and under are free of charge. Please make sure that you have passport copies of children as you have to verify their ages at museums for free tickets.
Frequently Asked Questions
How to meet my tour guide to start the tour?
Your tour guide will be waiting in your hotel or at the airport to meet you at a determined time.

Can I state the departure time for my tour?
Of course! We operate tours on a private basis, so you can customize the departure time of your tour. Generally, the suggested departure time for the tour is 09:00 am.

Am I traveling with a group on the tour?
No, we provide private tours for your best experience so you will have a private professional tour guide in your preferred language.

How about shopping on tours?
We do not include any shopping stops unless you wish to visit one of the traditional workshops of handmade rugs, tiles, jewelry, or leather. If you have any interest in workshops, please indicate while booking.

Is it possible to change the tour route?
Of course, as this is a private tour we can change the tour route and make a new program according to your wish.

How do I book a private tour?
Easy! All you need to do is;
Fill in the "Booking" form where you will put your full details such as personal information, tour date, hotel name. Once you complete your booking we will get back to you with a confirmation email within 24 hours.

How do I pay?
You can complete the booking form and make an online payment with Paypal or credit card.

What are the language options?
We can operate your tour in English, Spanish and Italian upon request. Please contact us for other language options.

Can we add another site of the visit to our program?
Please advise us in advance if you would like to add another site of the visit to your tour itinerary, so we can revise it accordingly.