Best of Pamukkale: 1-Day Private Guided Tour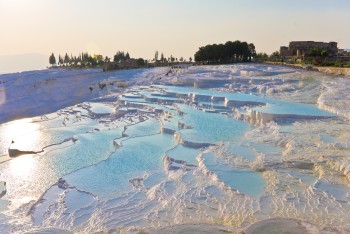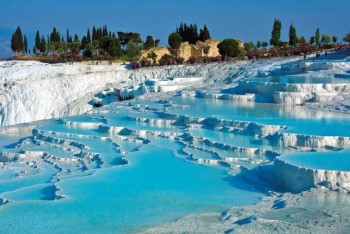 For last-minute inquiries about Istanbul tours, please contact or text us at
+90 53 67 46 95 79
Duration: 8 hours
Tour starts: Hotel
Tour ends: Hotel

Includes:
Private Tour
Professional Tour Guide
Transportation

Excludes:
Museum/Attraction Tickets
Lunch, Drinks
Sights to see:
Day 1
Pamukkale Travertines

Hierapolis Ancient City

Cleopatra Antique Pools

Itinerary
Your tour guide will meet you at your hotel lobby or cruise port and start your tour to take you to the best sights of the city.

You will experience the best of the city on this private tour which includes all the major sights. You will wander through the legendary streets and magnificent structures and be amazed with the rich culture of Turkey.

At the end of the tour, your tour guide will accompany you to your hotel or port.
Day 1

Pamukkale Travertines; Pamukkale, which translates as "cotton castle" in Turkish, is a natural location with hot springs and travertines, or terraces of mineral carbonates, that have been left behind by the water flowing there throughout time due to its moderate environment. Pamukkale is considered to be the earliest spa on earth and its hot springs were believed to have healing powers. The unique terraces were formed by running warm spring water at a temperature of 35 C, containing calcium bicarbonate.

Hierapolis Ancient City; A UNESCO World Heritage site is the historic city of Hierapolis. Since the second century BC, the natural springs have been exploited as a spa, attracting visitors seeking treatment. You will have the opportunity to explore the Calcium Pools, Necropolis, Roman Baths, Domitian Gate, Latrina, Frontinus Street, Agora, Byzantium Gate, Triton Fountain, Cathedral, Apollon Temple, Plutonium (explanation will be made from outside due to ongoing excavations), Theater, Gymnasium, Theater, Hierapolis City Museum, Apollon Temple, and many other sites in the Hierapolis Ancient City.

Cleopatra Antique Pools; Natural springs and historic pillars can be seen at the distinctive Cleopatra/Antique Pools. It is thought that the great Cleopatra (Queen of Egypt) swam in this pool, which is situated inside the confines of the ancient city of Hierapolis' ruins.
Additional information
Children aged 7 and under are free of charge. Please make sure that you have passport copies of children as you have to verify their ages at museums for free tickets.
Frequently Asked Questions
How to meet my tour guide to start the tour?
Your tour guide will be waiting in your hotel or at the airport to meet you at a determined time.

Can I state the departure time for my tour?
Of course! We operate tours on a private basis, so you can customize the departure time of your tour. Generally, the suggested departure time for the tour is 09:00 am.

Am I traveling with a group on the tour?
No, we provide private tours for your best experience so you will have a private professional tour guide in your preferred language.

How about shopping on tours?
We do not include any shopping stops unless you wish to visit one of the traditional workshops of handmade rugs, tiles, jewelry, or leather. If you have any interest in workshops, please indicate while booking.

Is it possible to change the tour route?
Of course, as this is a private tour we can change the tour route and make a new program according to your wish.

How do I book a private tour?
Easy! All you need to do is;
Fill in the "Booking" form where you will put your full details such as personal information, tour date, hotel name. Once you complete your booking we will get back to you with a confirmation email within 24 hours.

How do I pay?
You can complete the booking form and make an online payment with Paypal or credit card.

What are the language options?
We can operate your tour in English, Spanish and Italian upon request. Please contact us for other language options.

Can we add another site of the visit to our program?
Please advise us in advance if you would like to add another site of the visit to your tour itinerary, so we can revise it accordingly.